orait...
Assassination Classroom dah smpi Malaysia hari ni (3/9/2015)!!...
sape2 yg nk join Yamada, oppss...
bukan Yamada but sape2 yg nak join Nagisa Shiota and his friends
utk mengalahkan their alien teacher,
you can do that at this 5-exclusive place only...
which are:
GSC Mid Valley
GSC Gurney Plaza
GSC AEON Bandaraya Melaka
GSC CityONE Megamall, Kuching
GSC Ipoh Parade Mall
citer aper tu??
Assassination Classroom??
xpernah dgr pownn...
best kerrr??
ahah!! nak tau best ke x,
kena p tgk sendirilah... okey..
juz a summary about this movie...
this is a japanese-adaptation-movie...
and had been released on 21 March 2015 at Japan...
and today, it has been exclusively aired at Malaysia....
alkisahnya, ada satu makhluk ni... alien lah kan...
alien tu dh musnahkan 70% bulan and BUMI is his next target,
if and only if xada siapa musnahkan makhluk tu until March 2015...
and salah satu permintaan alien tu is,
he want to be 3rd Grade Class E homeroom teacher
and the government can't say no...
klu kata no, akan ada laa benda yg jd...
makanya, that alien(Koro-Sensei) menjadi Homeroom-teacher
utk 3rd Grade Class E yg mana rata2nya dihadiri oleh
pelajar2 yg lemah dlm pelajaran...
salah seorg student Class E is Nagisa Shiota...
pd masa yg sama,
government mengarahkan Class E utk membunuh Koro-Sensei,
even mereka tahu Koro-Sensei tu ada powers...
the government has offers 10 billion yen
kpd sesiapa yg berjaya bunuh Koro-Sensei...
and of coz lah student2 setuju jer
as mereka tu pun tgh confused lg..
Bayangkan bila kita diberitahu cikgu baru kita adalah
alien jahat yg berkuasa...
xke jd bengong sat seminggu dua
namun, sebaliknya yg terjadi
apabila students Class E boleh ngam plak dgn Koro-Sensei...
so kat situlah kot conflictnya
whether students tu nak bunuh atau x cikgu alien mereka
yakni Koro-Sensei....
aku xpasti sbb aku xtgk pown lg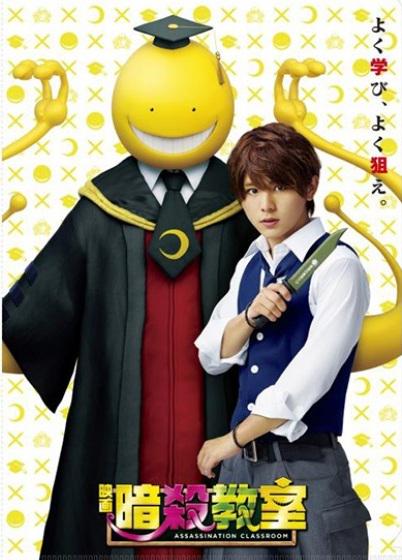 yg
kuning
tu lah
Koro-Sensei
(alien)
yg budak lelaki tu
Nagisa Shiota
...
thats all yg berkenaan dgn movie tuu..
and skrg aku nak citer plak about lagu tema movie ni...
theme song for this movie is- Koro-Sensations
ada kisah disebalik lagu ni tau...
nak tahu x??
mcm ni citernya...
selain student2 kelas E tu,
ada satu group lg yg diarahkan
utk bunuh Koro-Sensei tu...
nama group tu ialah Sensations...
ada yg kata mereka ni adalah HeySayJUMP,
but no..no.. no... mereka ialah Sensations!!!...
a group that has been ordered to kill that alien!!!
(haha... don't get confused...
yup mereka adalah HEYSAYJUMP
cuma utk promote movie ni, mereka adalah Sensations...)
lawan punya lawan, tentang punya tentang,
tembak, baling, and akhirnya.....
but akhirnya Sensations
gagal
kalahkan alien tuuu...
as punishment, all Sensations members
need to sing the theme song and at the same time
at the end,
they need to help Koro-Sensei...
ni lah dia group Sensations tu....
~Sensations with Koro-Sensei~
nak tgk x performance Sensations??
click link bawah ni yer...
[
BATTLE MODE
]
[
LIVE PERFORMANCE-SENSATIONS
]
actually apa yg menarik kat sini
is how they promote that movie...
Hey!Say!JUMP has turn into Sensations
in order to promote it...
bukan tu jer, they also have
new costume+weapon for each of them....
as semua tahu, this is completely an action+comedy movie...
they have to give all they had in order to attract people...
and one more thing, movie ni turut menggunakan
CG effect for that koro-sensei...
and I think they have achieve their target
as if i'm not mistaken, there will be a sequel for this movie...
Ansatsu Kyoushitsu~Sotsugyou Hen~
(Assassination Classroom~Graduation Edition~)
will be release next year (2016)....
keep waiting neee... (source:
aramaJapan
)
(^^,)